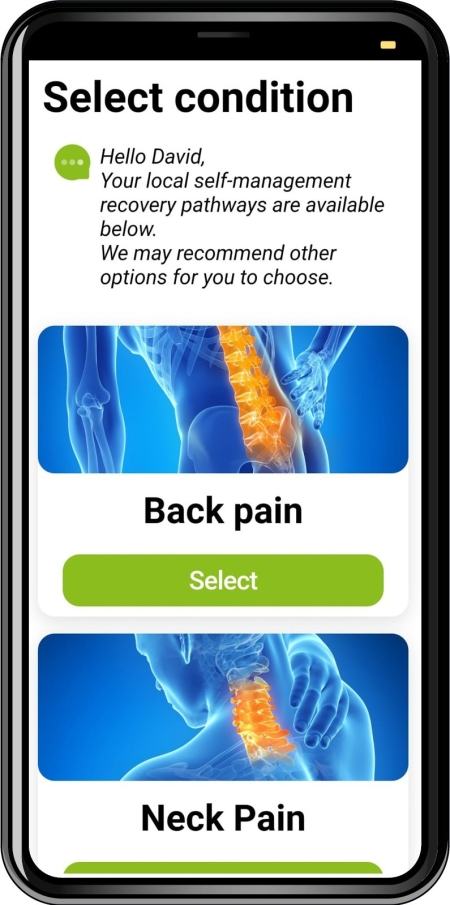 getUBetter is a self-recovery app for people with common musculoskeletal injuries or conditions.
getUBetter is an easy, safe and effective way to help people self-manage at home, at work and on the move. The app provides evidence-based self-management support for all common musculoskeletal injuries and conditions, including:
Hip pain

Back pain

Leg Pain

Neck pain

Shoulder pain

Ankle pain
The app provides personalised, evidence-based behaviour change techniques which includes symptom checking, nudges, videos, exercises and outcome measures
getUBetter is working really well in other parts of the UK and we expect it to work really well in Birmingham and Solihull. It is helping people to manage their own recovery at home safely, easily and quickly.
getUBetter is being piloted in practices across Birmingham and Solihull. Feedback from patients has been positive.
getUBetter is currently a prescribed app which means only a clinician can give you access to it. We hope that in the coming months, getUBetter will be made available to everyone directly
We know that a digital solution doesn't suit everybody and there are lots of other services which already exist to support people's musculoskeletal health. However, getUBetter will be a fantastic tool for those who want to and are able to use it.
If you are using the app already and require support please follow the contact details provided in the app, or contact your GP practice.
If you would like to know more about this project or you would like to implement it in your practice, please contact: contact@getubetter.com.

getUBetter is already being used in practices across Birmingham and Solihull, and patient satisfaction with the app is excellent. The app is safe and approved for use.
Installing getUBetter is quick and easy. Installation only takes 30 minutes, and we'll give you all the support you need.
To get started, please claire.seeney@nhs.net