Virtual wards allow clinical teams to safely and effectively bring patients the care they need at home, rather than in hospital.
Patients can be referred to a virtual ward to avoid an admission into hospital, or when they are discharged from a hospital ward to the place they call home (this could include care homes).
Virtual ward care is provided by a team and supported and enabled by technology. Whilst each patient will have a personalised care plan, the core team will usually include a doctor, lead nurse, a team of experienced nurses and a pharmacist. It could also include allied health professionals such as, physiotherapists, speech and language therapist, dietitians and occupational therapists.
A virtual ward provides the same in-person medical care as a hospital ward, but the patient is in the comfort of their own home or living space. The team will arrange medication, monitoring equipment, regular checks and a plan for how patients can get in touch with their virtual ward team.
Virtual wards use technology that enables clinical teams to monitor patients' condition when they are at home. This can be carried out via an app and mobile device and the monitoring results will be delivered directly to the virtual ward team.
Only a clinician can make referrals to the virtual ward, and not every patient will be suitable.
Across Birmingham and Solihull, virtual wards are currently being provided by Birmingham Community Healthcare NHS Foundation Trust, University Hospitals Birmingham NHS Foundation Trust and Sandwell and West Birmingham Hospitals NHS Trust.
Patients who have benefitted from being under the care of a number of virtual wards include those with respiratory health problems, frailty issues, long-term conditions such as irritable bowel syndrome (IBS) and ongoing care following a joint replacement.
Catherine Stubbs-Parker is just one of hundreds of patients who has benefited from receiving care in a virtual ward.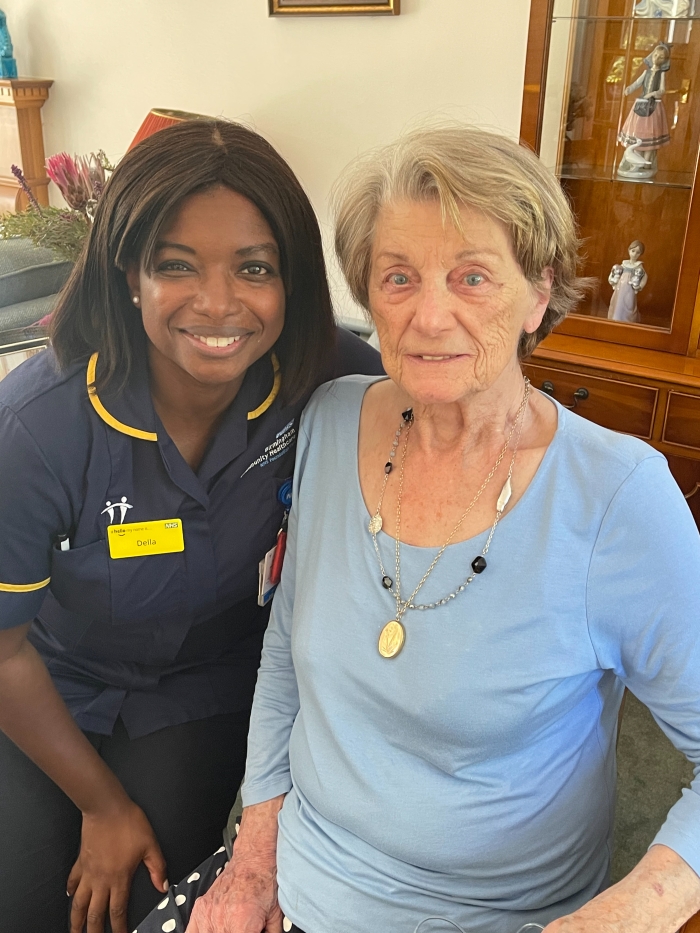 Catherine, 78 and from Harborne, was cared for on the respiratory virtual ward for chronic obstructive pulmonary disease (COPD) after an exacerbation of the condition led to a stay at the Queen Elizabeth Hospital Birmingham.
Catherine, whose husband was also in the Queen Elizabeth Hospital recovering from a heart operation at the same time, jumped at the chance to go home under the care of a virtual ward. The next day, a respiratory physiotherapist called Alex, visited Catherine at home. He provided respiratory assessment and management and ensured that she had everything she needed to continue her daily treatment and monitoring at home. Catherine also had a short-term nebuliser and an oxygen concentrator which she used for several hours a day.
Talking about her experience Catherine said:
"Alex visited me at home for an initial review the day after I left hospital. His reassuring attitude gave me the confidence I needed to continue my treatment in the virtual ward. He not only checked that I had everything I needed, but that I understood how to use it. "I felt well-informed, which in turn eased my stress. The key benefits for me were that I like to be at home with my husband and we have our daily routine. Nobody wants to stay in hospital if they don't need to. Being able to have a cup of tea and dinner in the comfort of my own home, while knowing that the care team are just a phone call away if I need them is very reassuring."