Our vision to make Birmingham and Solihull the healthiest place to live and work is driven by you.
We know we all work best when we're healthy, so we invest in a range of initiatives that support the health and well-being of those working across health and care in Birmingham and Solihull. 
We're committed to looking out for you, supporting you as you look out for others in the work you do every day. Below are details of the health and wellbeing support offer to colleagues working in health and care here in Birmingham and Solihull, offered in addition to support available directly through employers.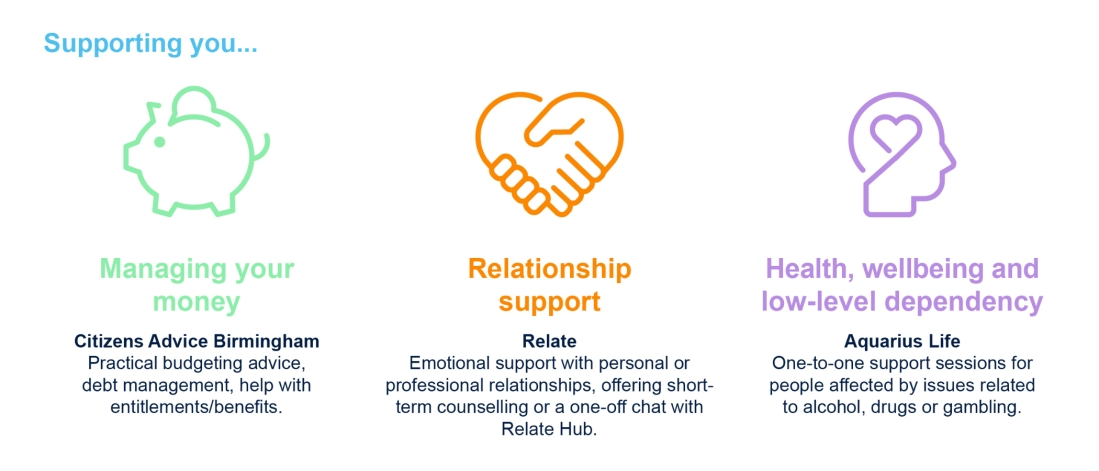 To support colleagues with cost of living, an enhanced support package has been developed for all health and care staff working in Birmingham and Solihull, including

staff within NHS commissioned services

. The offer has been designed collaboratively with all partners in our integrated care system to support staff with the ongoing impact of the national cost of living crisis, and provides fast track access to professional services centred around financial wellbeing, low-level dependancy and relationship support.
The services on offer are there to support you and those close to you - if you are concerned about a loved one or colleague and are looking for professional advice or support, please contact the appropriate service.
This offer complements existing organisational wellbeing services and the system-wide Staff Mental Health Hub. For more information on the Staff Mental Health Hub, return to the main 'work and live well' page.
The benefits:
Exclusive package for health and social care staff across Birmingham and Solihull.
Fast-track route into professional advice and support.
Completely confidential.
Who can refer into these services?
Anyone working in health or care in Birmingham or Solihull, including NHS commissioned services can refer into this service, Referrals can be made by individuals, with support from a line manager, local health and wellbeing lead or one of the Bsol Cost of Living support providers
Your feedback matters
If colleagues have any feedback on the package of services on offer, they should email Lavinia Hines, Head of Health and Wellbeing on: l.hines1@nhs.net. If feedback relates to specific support received with one of the services, please contact services directly.
---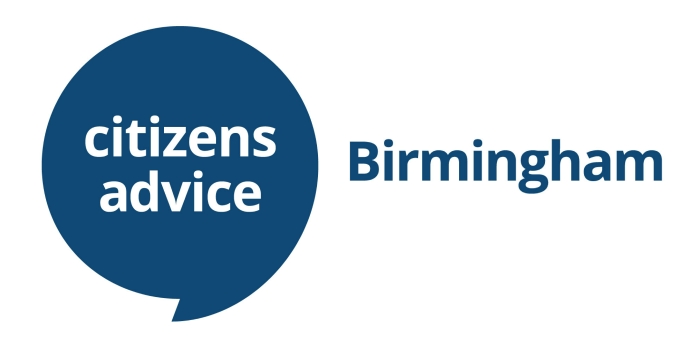 Supporting you with managing your money
Citizens Advice Birmingham is on hand to provide dedicated, confidential advice to staff. This could include direct access to an adviser for an initial diagnostic review, triage and advice, with follow up appointments available either in person or over the phone. Areas included are:
Welfare benefits

Housing

Employment

Relationships

Consumer

Money advice

Referrals to specialist services such as debt or benefits casework

Referrals to partner services such as employment advice services or with solicitors

Income maximisation and budgeting support
Accessing the service:
Call: 07851 245004 or email: t.cooper@bcabs.org.uk
Quote 'COL support for staff – BSol' and if colleagues feel comfortable to, they should give a brief overview of what they may require support with, along with their contact details. Please note this service currently operates Monday to Friday between 9.30am and 4.30pm.
---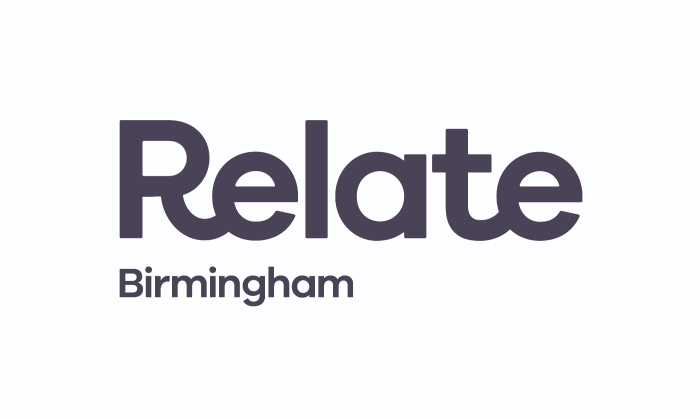 Supporting you with relationships
Relate Birmingham provides two offers of support around issues affecting relationships:
Option 1: Relate Counselling is available to support individuals and couples with issues such as communication, arguing, conflict, parenting, family life, separation, domestic abuse, intimacy, work and money worries, stress and anxiety. The service includes an assessment and up to 6 more sessions by webcam or phone with a qualified and experienced Relate counsellor. Sessions are up to an hour and appointment times include daytime, evenings and Saturday mornings.
To book an appointment or for more information, call 0121 643 1638 (office hours are 9.00am-4.30pm Monday to Friday) or email: appointments@relatebirmingham.co.uk
Option 2: Relate Hub is a 30-minute chat by Livechat or phone with a counsellor about any pressing or day-to-day relationship issues around the rising cost of living, such as stress or anxiety, feeling time-crunched, and challenges with partners, children, friends or at work.After this one-off session, Relate can also refer in to their counselling service for further support.
To schedule a chat with a counsellor staff can visit https://Relatebooking.as.me/BSOLICS or call Relate direct on 0300 303 4477. There are a range of times available Monday to Friday, including some evenings.
Alternatively, referrals can be made via the enquiry form on the Relate website.
(With all options please quote 'COL support for staff – BSol' as the subject)
---

Supporting you with wellbeing and dependency support
Are alcohol, drugs or gambling changing the way that you think and feel about yourself, work, life?
Have you or anyone else ever been concerned about your gambling or alcohol or drug use?
Have you ever felt guilty about your gambling or alcohol or drug use?
Have you ever thought about cutting down?
Aquarius Life supports people affected by alcohol, drug and gambling issues. Whether you are concerned about yourself or are affected by someone else's problem, they can offer support or advice.
Aquarius Life can support with the following:
Alcohol/substance use/gambling education

Guidance on managing risks

Exploring alternatives short/long-term

Engaging in lifestyle changes

Basic coping strategies and relapse prevention

Familial engagement

Alternative and supportive services such as Alcoholics Anonymous or Narcotics Anonymous
Welcome webinars and one-to-one sessions
As part of the launch of this new service, Aquarius is offering a range of educational opportunities to provide information about the issues and how the service works. These sessions are suitable for people seeking help for themselves or are affected by someone else's problem. Click on the links below for more information and booking details:
Aquarius has also published some short postcards to help people self-assess their needs and to support people having coversations with anyone they're worrried about.
Acessing the service:
Email aquariuslife@aquarius.org.uk or call 0330 0083 965, quoting the reference 'COL support for staff – BSol'.
NHS – Mental health
Providing information and support for your mental health. Including self-help advice and links to support available.

Every Mind Matters
Expert advice and practical tips to help you look after your mental health and wellebing
Initially established in response to the impact of working during the COVID-19 pandemic, our Staff Mental Health Hub is open for referrals for all health and social care staff seeking help for the emotional and psychological support.
Self-referrals are accepted, or referrals can be made by employers.
Following referral, the staff member will be offered the following:
Rapid and easy access to specialist psychological assessment

Advice, consultation and onward referral where appropriate

Access to some evidence based brief psychological interventions within the Hub
Referrals can be made by calling 0121 301 1470 by email on the secure email: bsm-tr.referrals@nhs.net. Please label your email clearly for the Staff Mental Health Hub, and include name, contact details, home address, date of birth, and GP, and where possible some brief details as to the reason for the referral. If referring on behalf of a colleague, please ensure you have consent to share their details with us.
The hub will not be able to directly offer an alternative to secondary care mental health services or urgent / crisis intervention. If you are concerned about immediate risk you will need to contact your GP or consider seeking other emergency health care.
In addition to support for staff through their employing organisation, there are options available for accessing counselling support for those who do not want to use an employer-based service.